ผลิตภัณฑ์ไฮไลต์ปี 2562
"AICHI Multi Dora" (Better Pack Co.,Ltd.)

Multi-dora uses touch panel with simple design, anyone can easily understand from the first use. Special heated copper plate ensure even quality and color Dorayaki. Suitable for SME small bakery shops.
"AIGI" Infrared Super Fryer(Better Pack Co.,Ltd.)
Large reduction in running cost achieved: internal resonant heat is generated in ingredients by the infrared effect, allowing the core temperature to rise in a short time. The quick increase in core temperature slow down the deterioration of oil, retain the quality of the oil.
"AIHO" Rice Cooker (Better Pack Co.,Ltd.)

AIHO Automatic continuous rice cooking process - rice washing and finished by rice steaming process. Systematic equipment, adjustment of fire, water level are very accurate. White rice and mixed rice are cooked easily also difficult items: chicken pilaf, curry pilaf are cooked evenly, tasty. Capacity:70kg-280kg.
"Better Pack" Rotary Packing Machine (Better Pack Co.,Ltd.)

Intermitent rotary 8 work stations provide perfect seal by 2 heating sealers and a cooling press. Liquid and solid product can be packed by 2 filling stations. Pouch type: flat, standing pouch. Can be integrated with Multihead weigher, Liquid and Paste Feeding system, Auger feeder.
"BIG" Bag Collator (Better Pack Co.,Ltd.)
Simplify your manual case packing process with an automatic bag collator. This machine will arrange bags or pouch to standing position line up which are much easier and require less workers. Flexible for pouch sizes change over and counting in process. Highly recommended to combine with vertical form-fill-seal machine and pouch filling & sealing machine.
"BP" Deboning Machine (Better Pack Co.,Ltd.)

BP Deboner made of high quality SUS, equipped with 2 different power motors provide effective deboning frozen or room temperature raw product. They are located separately to prevent products from motors' high temperature while in process. Suitable for beef, pork and poultry. Easy to use, adjust, maintenance and cleaning.
"FUJI" FUJI High-Speed Horizontal Form-Fill-Seal Alpha8 Series (Better Pack Co.,Ltd.)

Easy to use for anybody alpha wrapper 8 realized "easiness" by adoption of auto-calculation function and by improvement of the operation panel. Once the user enters the basic information such as product size and scale value, alpha wrapper 8 automatically calculates rejections. No complicated settings or adjustments are necessary.
"HISAKA" Sterilizer (Better Pack Co.,Ltd.)

Continuous spraying of water through spray nozzles, located at two corner of each load, gives very even chamber temperature during all stage of the process.The even chamber temperature minimize the FO-Value variations and over cooking. Exact temperature distribution provide the reliability needed for temperature sensitivity products.
"JKV" Paste Filling-Sealing Machine (Better Pack Co.,Ltd.)

Automatic weighing and quantitative packing of liquid or high viscosity product. Equipped with high accuracy weighing system, reliable electric appliance and pneumatic components, squeeze-exhaust casting method, touch screen control panel. Available for high temperature product such as jam, filling paste, cheese, grease and glue.
"NAOMOTO" Super Heated Steam Oven (Better Pack Co.,Ltd.)

This super heated steam oven can help food products to retain moisture while passed through the process. Product will be crispy but but juicy. It's also retain flavor, nutritional value and provide higher yield comparing to other ovens.
"PACKWAY" Carton Tape Sealing and Strapping machine Machine (Better Pack Co.,Ltd.)

The Carton sealing machine model PW-553S provides durable performance, designed to seal cartons easier and perfectly by 2 side belts driven, simply adjustment for box sizes For more tighten up the box. The Carton strapping machines are able to strap at high tension.
"SHINKO" Auto Powder & Liquid Filling machine Machine (Better Pack Co.,Ltd.)

Bag sealing types of 3 side seal, center seal, 4 side seal, pillow bag, double bag and pyramid pouch. Measuring units: volumatic cup for granule, auger screw for powder products, piston pump for paste of liquid. Products: instant drinks, chili oil, powdered chili, shampoo, medicine.
"SUNSHINE" Oil Filter (Better Pack Co.,Ltd.)

The machine consisted of 3 or 5 layers of oil filter paper and filtering compound, which effectively removes free fatty acid and residual, For more efficient of filtering, the Pre-filter is optional equipment for removing large piece of residual before transfer the oil into the Oil filter.
"Super Sealer" Tray Sealing Machine (Better Pack Co.,Ltd.)

Provides automatic tray feeding, filling, and sealing. Film cut type: profile cut or inside cut, reduces the use of film area. Equipped with a gas filling unit for packages with modified atmosphere (MAP). Applicable film materials :PP, PE, PET, HDPE, EPS, PSP, alu-foil, paper tray, etc. Suitable for liquid/concentrated foods.
"YC" High-Speed Bowl Cutter (Better Pack Co.,Ltd.)

A new High-Speed Bowl Cutter-ZB series is a stainless steel made bowl cutter which provides higher meat quality product such as color, appearance, texture and higher yields for linked sausages, formed meat products or other specialty processed meat. It allows you to emulsify, coarse chop or fine chop while reducing your grinding time, clean up time, and labor costs

NIAGARA is a technical solutions for recovering the industrial waste water from the production of beverages through a series of chemical and mechanical treatments, that allow water purification and make it suitable to be re-introduced upstream of the production chain or for other purposes. UP TO 60% WATER SAVING.

A&D Inspection offers cutting edge X-Ray inspection systems to assist food packaging and pharmaceutical companies better understand how to leverage this incredible technology in an effort to improve and manage the quality of their products.
A.J. Plast Public Company Limited

A.J.Plast is a high quality manufacturer of Biaxially Oriented Films for flexible packaging industry ,BOPP,BOPET,BOPA,BOPLA,CPP and Metallized films. Currently , we have a sustainable products to reduce consumed fossil based material and greenhouse emissions films , BiOPA and BOPPlus films.
A+F Automation + Fordertechnik GmbH
A+F DITIGAL PACKAGING A+F - Condition Monitoring A+F Digital Packaging comprises various modules that implement functions for digitizing packaging and palettizing machines. The following modules are already available for our customers or will be available in the near future: - Digital Remote Access - Digital Monitoring - Digital Maintenance - Digital Parts - Digital Operation

Horizon 2000, Double acting, Horizontal opposed, direct coupled motor and heat recovery sistem.

Acimga was founded in 1947 and since then it has represented the Italian manufacturers of machinery for the graphic, paper and converting industry. We help our associates to boost their business nationally and internationally.

Easypack is an innovative packaging system which does not use glue or shrink wrapping to pack together several products. Easypack forms the packs using special, fully printable and customizable bands of extensible material called "sleeves" that are placed around the products.
Advance Knowledge Services Co., Ltd.
Bag-in-Box Packaging,Filling Systems,IBC Container

O2X is a barrier coating produce by Aegis Packaging that can be apply onto plastics film and paper through rotogravure application and drastically improve the barrier properties of the packaging material. O2X coating can be lead to mono-material packaging for circular plastics which is easily recyclable.

AFA Systems has recently launched the HD-LSP, a heavy-duty, intermittent motion autoload cartoner for bottling lines. Built on a monobloc frame, the machine completes all operations within 30 square feet - about half the space typically required for a conventional multi-machine solution. The machine runs at 1200 bottles per minute.

AIR PASSION INTRODUCES THE NEXT GENERATION OF AIR CUSHION MACHINES: It delivers powerful performance.It is programmable and can be seamlessly integrated into air passion's system technology. It is a top performer in all categories. The intelligent system features "one-key" technology with a patented outstanding design.

HORIZONTAL FORM-FILL SEAL MACHINE FOR PACKING OF POWDER, GRANULES, LIQUIDS, PASTE AND SOLIDS INTO PRE-FORMED BAGS OR SACHETS OR FROM ROLL.
Allen Plastic Industries Co., Ltd.

Hall 98- AC16-Allen Pack Automatic Sleeving Machine We have 39 years experiences in shrink packaging field. All products are made in Taiwan. Our machine is easy adjustment and operation. with various production range and capacity can be used in multiple application. Performance guarantee with steel construction.
Alliance Technology Co.,Ltd.

IQ4 Metal Detector Conveyor - With significant improvements in signal processing, the new Auto-Learn rapidly delivers excellent detection sensitivities out of the box and provides more line uptime than ever before, variable frequency detection 31 to 882 kHz, Graphical DDS vector display and PVS improvements help increase the usefulness.

Advertising Agency, Exhibition & Conference Agency,Catalogue Design, Web Marketing Projection, Poster Design
Altech Asia Pacific Co., Ltd.

DAC: 1)Crossover Inspection System 2)Mercy touch software 3)Beat Vision Toshin: Versatile Slitting machine (SNR model) KTS: Empty PET bottle inspection machine Orient: Japanese Gravure printing machine Meisei : Viscosity Controller Sawa : Ultrasonic cleaner machine Think Laboratory:Offline Cr Paper Polishing unit

This SpiralVeyor is an all-purpose spiral conveyor for medium to large sized products. It is ideal for handling secondary packed products and cases and is used for multiple functions ranging from elevation up to accumulation. The continuous motion represents the perfect solution for the exacting situations involved with unstable products.
American Extrusion International

The AEI Single Screw Extruder produces 200 kg/hr of products for the snack, cereal and pet food industries. It is extremely versatile. It uses a wide range of raw material.

Technologies & Turnkey Solution for Powder Process & Packaging in Foods, Pharmaceuticals & Petrochemicals, especially on NDC, Coconut, 3 in 1 coffee, Starch, Flour, Sugar, Bakery Premix, Seasoning, Milk Powders & Compound Resin. We do Bulk Storage, Mixing, Weighing, Grinding, Conveying & Packaging System with EHEDG, GMP, HACCP, UKAS Standard

amixon® powder mixers are manufactured according to the customer's requirements. One of the main fields of application is the food industry. amixon® machines are used to process instant soups and sauces, spices, bakery premixes, baby formula, dietary supplements, instant powder for beverages and many more. Exclusively made in Germany!
Ammeraal Beltech Co.,Ltd.

Ammeraal Beltech is a global market leader in the design, manufacturing, fabrication and servicing of high-quality, high-performance process and conveyor belts, available today in 150 countries around the world.
Amo - Pack (Asia) Co.,Ltd.

BM-SERIES is an automatic bagging machine which is suitable for open mouth bags such as PE bags, PP Woven bags and Kraft paper bags. The bagging machines are tailor-made to customize according to client's need. Its capacity varies from 200 to 1200 bags per hour.
AMP International Co.,Ltd.

Hygienic cleaning tools for the food and beverage industry
Ampthai Technology Co., Ltd.

The enhanced design of Ampco is patented ZP3 series positive displacement pumps is now leading the industry.It sets the standard for PD circumferential piston pump technology with a simplified yet state-of-the-art design that is reliable, durable.The features patented technology&unmatched CIP ability while maintaining maximum efficiency ease of maintenance greater uptime.

Super Bloc 24/24/18 GVSF (Rinser/Filler/Seal Foil)
Andritz Singapore Pte Ltd

With more than 100's experience in the food and beverage industry, ANDRITZ SEPARATION is one of the world's largest suppliers of solid/liquid separation equipment. We provide a wide range of reliable and efficient separators and clarifiers for all dairy, wine, beer, juices, and vegetable oils applications.
Anhui Cole Packaging Materials Co., Ltd.
ANHUI COLE PACKAGING MATERIALS CO., LTD. IS A LEADING MANUFACTURER OF ASEPTIC PACKAGING MATERIALS FOR LIQUID FOOD...... EQUIPPED WITH MOST ADVANCED PRODUCTION FACILITIES, HIGH SPEED AUTOMATIC TRACING SYSTEM IN PRINTING, LAMINATION, WHICH ASSURE US PERFECT QUALITY. OUR PRODUCTS ARE THE BEST CHIOCE FOR PACKAGING MILK, JUICE, TEA, LIQUOR, CHEESE, ETC.AND ARE WIDELY USED ON MORE THAN 220 FILLING LINES(TETRA AND CHINESE) ALL OVER THE WORLD WITH GOOD REPUTATION AMONG OUR CLIENTS
Anhui Zhongyi Intelligent Technology Co., Ltd.

high speed packing machine for powder and granule. packing speed: 500-1200sachets/min
Anritsu Infivis (Thailand) Co., Ltd.

Anritsu's M6-h series large aperture metal detector is designed to deliver unrivaled levels of detection sensitivity on your challenging production lines.
A-PACK Engineering Co., Ltd.

Korean made sleeve labeler applied individual servo system to label feeding and cutting for stable labelling as well as high efficiency at high speed production. After that conveyor leads bottles (round, square and flat) to steam tunnel for without bubble marks and wrinkles.
Aplix (Hong Kong) Limited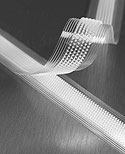 EASY-LOCK by APLIX® is a new sensory and intuitive closure for flexible packaging. This innovative closure offers audible and tactile feedback when opening and closing, letting consumers know their package is sealed. This value-added feature secures the package and provides an overall enhanced experience to the consumer.

The Single lane Spiral Conveyor is a proven reliable concept in vertical conveying. It's designed to conserve valuable floor space. The Single Lane Spiral Conveyor transports up or down in a continuous flow.
Applied Scientific Instruments Co., Ltd.

Hanbon Sci. and Tech. : Innovative separation / purification technology in downstream process by preparative HPLC system. Bio-pharmaceutical purification, Supercritical Fluid Chromatography (SFC)
Aseptic Pak (Thailand) Ltd.

We are supplier of flexible packaging machine. Aseptic UHT Processing, pasteurize processing, Filling machine, Down steam equipment. Aseptic packaging material.
ASIA ENGINEERING PAC CO.,LTD.

We are a complete packaging line manufacturer with over 30 years experience in: rinsers, volumatic fillers, pressure fillers, vacuum fillers, cappers, labelers, for various industries. We are a supplier to the food industry of Ultra-fine friction grinders (Supermasscolloider) from Japan. Fruit and vegetable dicers, slicers, and Washers also Mixers from Taiwan.
Asia Package Industry Publishing Company

ASIA FOOD publication has been serving the food industries in ASIA. It is a bilingual(English/Chinese)Publication issued by yearly to reach over 20,000 decision makers of the food industry in private and public sectors all over the region.
Association of Small & Medium Enterprises

The Association of Small & Medium Enterprises (ASME) is a not-for-profit organisation established in 1986 for entrepreneurs, by entrepreneurs. With wide-ranging services and programmes, ASME strives to equip member SMEs with the business knowledge and market opportunities to help them grow their businesses. For more information, visit www.asme.org.sg.
Atom-Mic Power Co., Ltd. is a distributor and importer of electrical equipment for industry.Apart from importing and distributing our range of works also included designing, installation, updating or upgrading electrical systems.
AUGER ENTERPRISE CO., LTD.

STS-01 Automatic Bag forming Metering Filling Packaging Machine (Small Package - Powder) Designed for metering, filling various kinds of powder and granular products into bags/sachets. Range of filling and metering: 1-50g (Easy to change capacity by simply changing the auger.)
Australian Packaging & Processing Machinery Association (APPMA)

The Australian Packaging and Processing Machinery Association (APPMA) represents Australia?€?s leading packaging and processing machinery and allied equipment companies. If you?€?re looking for specific Packaging and Processing Machinery, you need assistance with developing a tender or securing an Australian distributor, the APPMA can source appropriate member companies for you.
N/A

Fast. Only 2 minutes to disassemble and reassemble for cleaning Easy to clean, washdown ready Minimises surfaces, removes hidden and hard to reach crevices Reduce contamination risk and improve food safety Designed to certified hygienic standards Zero belt tensioning and tracking
Automation Cluster Co.,Ltd.

Pneumatic,Air units,Valves,Solenoid valves,Air Cylinder,Hydraulic cylinder,AirTubing,Fitting,Mindman,Main line filter, Air dryer,Auto drain,Actuator,Grippers,Robots,Electric Actuator,Rotary Actuator,Vacuum,Air Regulator,Air Filter,Rodless cylinder,Air pump

Autopack Continuous Motion Overlap Seal (CMOS) is a family of Bundle Shrink Wrappers capable of cycling twice the speed of Autopack standard Welding Bar machines. SIM can handle most cylindrical, rectangular or oblong shaped products whether in Food, Beverage and Dairy industries and also Cosmetic and Pharma thanks to its compact footprint.

AZO exhibits solutions to ensure a constant quality output while maintaining a high production flexibility.AZOs automatic batching system,AZO Dosinenter and AZO miBatch reduce batching errors to a minimum.Larger quantities of powder a fed into a mixer by pneumatic means.AZO conducts further a Productivity Check for clients at the booth!
B&R Industrial Automation Pte Ltd

IRB 460 High speed robotic palletizer. Leading ABB?€?s palletizing offering is the compact IRB 460 - the fastest palletizing robot in the world. The IRB 460 is perfect for end-of-line palletizing and bag palletizing applications.

B.A. PROCESSING leading Company in Food processing industry. Our machines have for aim fruit, milk, tomatos and vegetable processing not forgetting cream, jam , concentrated juices and tea such as high viscosity products.

BBC Belltech Co.,LTD has experience in food industry machinery, conveying systems and importer all kinds of conveyor belts from abroad. Company business focuses on designing and building machines especially in all types of the food industry. We focus on the development of the highest quality And excellent service
Smoke House for sausage

Hot air blower type COMPACT is ideal for shrinking, packaging, drying and different heating applications. Hot air Blowers and industrial Heaters for various shrink and heat process like shrink capsules, heat shrink tunnels. Plastic Welding Technology
Banyong Engineering Ltd.,Part.

We are the manufacturer of sealing machine brand "MASTER" for over 40 years. The Sealer comes in Vertical & Horizontal type, foot-operated model. Our Sealing machine can seal any kind of plastic bag, or pouch, and all models have been produced from the high standard quality factory.
Baopack Auto Packaging Machine Co., Ltd.
Baopack owns 10000 square meters standard workshop???is a high-tech enterprise professional in researching and exploration, manufacturing, sales and after-sale service??? devote to researching and designing for automatic weigher, vertical form-fill-seal machine, weight check, metal detector and complete product packaging line.With high quality and advanced technology
Baopack Auto Packaging Machine Co., Ltd.
Rottweil i-jet 470HW white ink high-speed printer can print 4 lines with a aperture of 70 microns. Adopted German technology, LINUX operating system, ink system is stable and reliable, 7" TFT true color screen design, simple operation, easy maintenance with less cost. Suitable for all kinds of material printing, easy to achieve date, time, batch number, graphics, trademarks and other industries in the jet printing. Directly use the printer or use the computer to edit the required graphic LOGO, easily achieve any graphic LOGO printing
BB Tech & Service Ltd.,Part.

BB Tech & Service Ltd. Part., A distributor of pharmaceutical machinery, cosmetology supplements and testing machines for labs.

Liquorice & Starch Gel Process Systems Advanced production lines incorporating the latest developments in electronics control and modern design. Batch or continuous systems are available in line with consumer demand. The cooked liquorice can be extruded into various shapes through a wide range of die profiles.
Beijing Hanlin Hangyu Technology Development Inc.
Full set of Siemens configuration, 10-inch Siemens color touch screen; Monitor the pressure of each punch, according to the pressure situation to monitor the weight, and automatic compensation, tick waste.
Beijing Kanglide Machinery Manufacturing Co.,Ltd.
Established in 1996, Beijing Kanglide Machinery Manufacturing Co., Ltd. is a high-tech enterprise engaged in research, development and manufacturing of soybean product machinery and equipment as well as training for production process of soybean products.
Beijing Y.C.T.D. Packaging Machinery Co., Ltd.
leading brands of packaging machine from Beijing YCTD packaging machinery China ,applicable to PET PE bottles and cans , as well as glass bottls , YCTD shrink film machine has wide range form 5packs/min to 160packs/min ,a real authentic trustworthy company you can rely on
Beijing Yinrich International Trading Co., Ltd.
This machine can produce different kinds of deposited hard candies, jelly candies, toffees, and other candies.
Benison (Thailand) Co.,Ltd.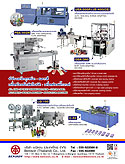 BENISON is a leading manufacture of Auto Shrink Sleeve machine,wrapping machine,mini pillow machine,heat tunnel,steam tunnel,POF film,PVC film,PET film. BENISON is reliable partner for you.
Benjamit Packaging Co.,Ltd.

The company is the manufacturer of plastic cup with premium printing. We can directly print image (portrait)on cup with dry off set, speed 300-500 pcs/minute. This causes high quality product outcome and reasonable price. The plastic products are color printed plastic cup, and lid.

Berhalter die-cutting where profitability and efficiency meet Berhalter is a leading manufacturer of high-performance die-cutting machines as well as a specialist for high precision punching tools, we can offer tailor-made services, entirely in keeping with the motto "One complete die-cutting solution from one single source – 100 % Swiss made".

The 1-piece screw-on Carbonated Soft Drink 26mm closure is equipped with the BERICAP DoubleSeal system with inner and outer seal to grant maximum tightness. The slit flex band provides reliable tamper evidence, assures the integrity of the product and breaks convenient with first opening.
Berli Jucker Public Company Limited
BJC Glass is one of the leading glass packaging distributors in South East Asia. Our glass packaging products are manufactured by BJC's subsidiary companies;Thai Glass Industries Public Company Limited(TGI) and Thai Malaya Glass Company Limited(TMG)
Bertoli - Brand of Interpump Group S.p.A.

This is an industrial homogenizer of the Leonardo Series model HA53355. 41.000 l/h @ 250 bar

Retort Pouch Filler & Sealer Rotary Packing Machine Retort pouch filler and sealer rotary packing machine designed for flat and standing pouches. The scope of applications include liquid food or thick liquid food. Suitable for using in frozen food, snack, bean, candy and pet food.
BG Container Glass Public Company Limited

BGC or BG Container Glass Public Company Limited operates in glass packaging business. BGC is trusted by its domestic and overseas customers due to the quality of the products and the technology incorporated into its production.

Binacchi & co was founded in 1969 as an engineering and manufacturing company for soap and detergent plants and machinery. Always one step ahead in technology and in R&D, Binacchi can be the only reference, from the oils & fats treatment up to the packaged soap bars.

Vented Liners for Aggressive Chemicals Vented liners equalize pressure inside containers preventing them from distorting, allowing the airflow, while providing a barrier for liquids and dry products.

INMATEC PNC NITROGEN GENERATOR Advanced PNC technology increases the efficiency thanks to innovative flow technology and advanced vortex technology - more nitrogen is produced with lower compressed air requirements. Advantages: - can be fully integrated - ultrapure nitrogen (6.0) - in-house production - significant cost savings - remote control technology
Bizerba South East Asia Pte Ltd

Bizerba high-quality entry level checkweigher integrates Metal detector with an optimum of footprint at various applications, handles up to 200 packages per minute. With an IP65 protection it is the first choice for all dry and wet applications of prepacked products.

EUROBELT E30 EMBEDDED WAVE conveyor belt has a surface specifically designed to transport highly malleable products. Its closed surface, with embedded waves, allows the product to adapt to them resulting in a grip without adhesion. Their channels through the belt facilitate the aeration and drainage of the product.

The new Bosch ultra-compact steam boiler is highly efficient, compact and easy to operate. Available in steam outputs ranging from 300 to 5,200 kg/h, and built to EN 12953 standard. High efficiency rate of 95.3%, compatible with different fuel types for diverse applications.
Botens Int'l (Thailand) Co.,Ltd.

WRJ Series of Solventless Laminator, Speed 450 M/Min.
Bright Packaging Industry Berhad
Bright Packaging Industry Berhad is one of the largest companies in Aluminium Foil Converting Business in Asia Pacific. BrightPack offers a wide range of Quality Products consists of Aluminium Foil/Metallized Film laminate to Tissue, Woodfree and Board. Our comprehensive range of packaging services covers Lamination, Coating, Slitting and Sheeting.
Brucker Maschinenbau GmbH & Co.KG

Film stretching lines for the production of a wide range of biaxially oriented plastic films utilised for packaging or technical applications, mainly made of PP, PET, PA.

Case packer machine for RSC case
Bucher-Alimentech Limited

FRUIT JUICE PROCESSING EQUIPMENT: Fruit handling, washing, milling, pressing, filtration, resin-treatment and concentration, for quality output and optimised yields. INNOVATIVE DRYING TECHNOLOGIES: Batch and continuous systems, for vacuum and freeze-drying, providing maximum quality and aroma retention. BEER & BEVERAGE FILTRATION: Pre-coat candle filters, cross-flow filters for beer and other beverages.
BUHLER ASIA PRIVATE LIMITED

Two billion people each day enjoy foods produced on Bühler equipment. Having this global relevance, we are in a unique position to turn today's global challenges into sustainable business. We want every human being to have access to healthy food. Our motto is creating "innovations for a better world."
Bulk and Fluids Engineering Sdn Bhd (BAFE)

Services & Products Provide:- 1.System Integrator for Various Processing Plants 2.Plant Automation and Engineering 3.Bulk Handling and Fluids Processing Equipment 4.Conveyor System 5.FIBC Packing Line and FIBC Discharger System 6.Process Control Valve

Business France is the national agency supporting the international development of the french economy, responsible for fostering export groth by French businesses, as well as promoting and faciliting international investment in France
C. ILLIES ( Thailand ) Co., Ltd.

Introducing new Bossar BMS Full Servo Series. The latest servo-driven HFFS machine that includes all advantages of BMS series, obtained with a significant foot-print reduction. The stunning efficiency and improved technology allow to operate multiple formats with the highest spout sealing quality, available both with top and/or corner valve applications.

SANZIP, the brand name of our re-closable zipper, has many excellent characteristics suited to zipper pouches and bags which are well regarded for their high quality and compatibility with pouch-making machines and F/F/S machines.
C.T. Super Sales & Services Ltd., Part

This machine is mainly applicable to filling/pressing operation for 20-500ml plastic or glass bottles,10 pumps are used for double-headed filing

The EOS series combines all functions of a solid label printer with highest operating comfort.

Tailor-made food processsing lines: See how your business can benefit from our precision