Press Release & Industry News
ProPak Asia 2016 – Asia's Number One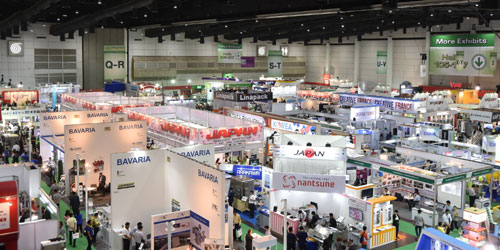 ProPak Asia 2016 took place for its successful 24th edition, 15th to 18th June at Bangkok International Trade Exhibition Centre (BITEC), Thailand. ProPak Asia is Asia's Number One international trade event for Food, Drink & Pharmaceutical Processing & Packaging Technology and once again delivered the Best-Ever and Biggest-Ever event breaking all previous records and receiving outstanding feedback from exhibitors and visitors alike.
ProPak Asia truly is the "Must-Attend" industry event in Asia for Asia, as quality and variety of products increase and expand, and productivity of operations and manufacturing standards are driven higher by consumer demands and new automation and technological advances, which are presented onsite at the show.
ProPak Asia 2016 presented 1,976 exhibitors from 48 countries, 17 international pavilions from China, France, Germany, Italy, Japan, Korea, Singapore, Spain, Taiwan, UK, USA and new pavilions from Australia and Denmark. High quality and quantity visitors were recorded across all 4 shows days reaching 40,893 visitors with Asian delegations attending from across the region including Bangladesh, Cambodia, China, India, Indonesia, Laos, Malaysia, Myanmar, Philippines, Singapore, Vietnam and from a total of 68 countries.
"ProPak Asia is the industry's annual meeting place and technology showcase in Asia, and is growing every year. Delivering more and better business from across Asia as product quality, manufacturing standards, production facilities and greater levels of automation as global consumer demand grow and change."Said Mr. Justin Pau, General Manager, Bangkok Exhibition Services (BES) Ltd
ProPak Asia 2016 was opened by H.E. Dr . Atchaka Sibunruang, Minister of Industry who emphasised the significant importance of agri-business in Thailand and the region and the governments support for large industrial and SME agri-business development.
Many conferences, seminars and presentations took place at ProPak Asia 2016 receiving overwhelming attendance and response from delegates. Exciting discussions, trend updates, and new research and technology were presented across; The Food Innovation Asia Conference 2016, Food Innovation Contest 2016, Asia Drink Conference 2016, PharmaTech Seminar 2016, Thai Packaging Centre and TISTR Conference 2016, The Department of Industrial Promotion Seminar 2016, The FoSTAT-Nestle Quiz Bowl, Asia Food Beverage Thailand Conference, Food Focus Seminar, The Thai Star and Asia Star Packaging Awards and many more events from world-renowned and industry leading companies. All adding valuable learning and networking opportunities for the industry.
Next year, ProPak Asia 2017 will continue to grow due to increasing demand from returning and new exhibitors, and expand into BITEC's new halls offering much bigger space and one massive combined
column free hall. ProPak Asia 2017 will focus on 8 industry zones including; Processing Technology, Packaging Technology, DrinkTechAsia, PharmaTechAsia, Lab&TestAsia, Packaging Materials, Coding,Marking&Labelling and Coldchain,Logistics&Warehousing.
"With the new halls next year we have a fantastic opportunity to expand and focus ProPak Asia for the industry. ProPak Asia has been growing organically for the past 5 and expanding into the available halls at BITEC, which have been halls 5, then 6, then 7 and next year we can bring together all the related exhibitors by zone and expand exhibitor's booths to meet demand and make it easier for buyers and sellers to meet to make business." Added Mr. Pau
ProPak Asia2017, the 25th edition will return 14 to 17 June 2017 at BITEC, Halls 98 to 104. Even with the new halls space at ProPak Asia 2017 is in very high demand and already limited as many exhibitors have already confirmed to return and many new enquiries were received onsite during the show. Please contact the organisers without delay for more information or to book your location.
ProPak Asia2017, 14 to 17 June 2017, BITEC, Bangkok, Thailand, www.propakasia.com
For Sales Enquiries please contact your nearest office:
Bangkok
Ms. Piyaporn Lertpongsophon (May)
BangkokExhibition Services (BES) Ltd
Tel. +66 (0)2615 1255 ext. 116
Email: [email protected]
London
Mr. Marek Szandrowski
Overseas Exhibition Services (OES) Ltd
Tel. +44 (0)20 7840 2108
Email: [email protected]
Singapore
Mr. Davin Er
International Expo Management (IEM) Pte Ltd
Tel. +65 6223 6777
Email: [email protected]
For Press Enquiries please contact:
Ms. Wantita Porntanawong (Bow)
BangkokExhibition Services (BES) Ltd,
Tel. +662 615-1255 ext. 123, email [email protected]
For more information please visit:www.propakasia.com or Facebook – ProPak Asia